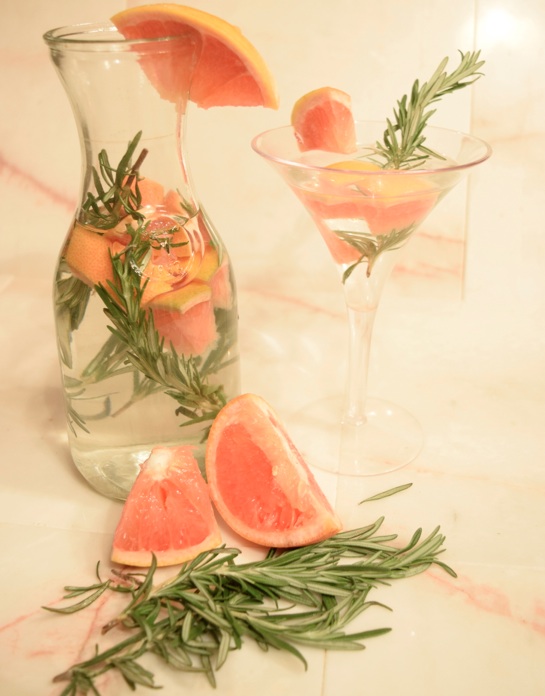 Today on the blog I'm partnering with my friends over at Graham & Co to bring you some incredible detox fruit and herb infused water recipes for the new Health & Fitness section of Forte E Bello. Here are the reciepes along with their incredible health benefits. Enjoy!
GRAPEFRUIT ROSEMARY
A refreshing Twist on the standard "lemon water" and a great alternative to any cocktail. Tangy Grapefruit pairs well with the freshness of the Rosemary while giving a boost of Vitamin C and helps detoxify the liver.

Health Tip…… Many consider Grapefruit to be acidic, yet it actually produces an alkaline state resulting from its high mineral content.
Serving Ideas….. Freeze waters in ice trays with herbal pieces for a Splash of Color!!      
Recipe…
oz. Water
1/2 Red Grapefruit
1-2   Rosemary springs 
 Cut rind away from the Grapefruit and cut into slices-use sharp knife, to retain juices. Fill container with water, then add fruit and Rosemary. Squeeze 2-3 tablespoons of Grapefruit juice from the other Grapefruit half into your water. Infuse for 2-3 hours at room temperature and 24 hours in the Frig.
 ****We recommend removing Rosemary after 4-6 hours, as she tends to dominate!
THE CUCUMBER ORANGE MINT
Why this combination?
1. Cucumber: contains citrulline which is an amino acid that has been shown to help our liver and kidneys get rid of ammonia which is a by product of the proteins our bodies burn for energy.
2. Water: helps flush toxins and waste through our system while keeping us hydrated.
3. Lemon: stimulates the digestive track so it's helpful if you have constipation, heartburn, or gas. Lemon also stimulate the liver to metabolize fat.
4. Mint: Helps you digest effectively because it improves the flow of bile from the liver to the gallbladder to the small intestine to break down dietary fats. It also helps relax cramped up stomach muscles.
5. Orange: Flavonoids in the peel and juice stimulate the immune system and protect against fungi/pests while helping to reduce cholesterol levels.
Recipe…
1-2 Liters Water
1 Cucumber
1 Lemon
1 Orange
10 – 15 Fresh Mint Leaves
Handful of Ice
THE BERRY MINT TWIST
Recipe…
10 Large Strawberries or 1 cup Raspberries OR both
¼ cup mint leaves
6 cups water
Slice Strawberries length wise into 1/3 pieces. Fill container with water, add Strawberries and toss in Mint leaves…gently stir. Infuse for 4 hours at room temperature then refrigerate.