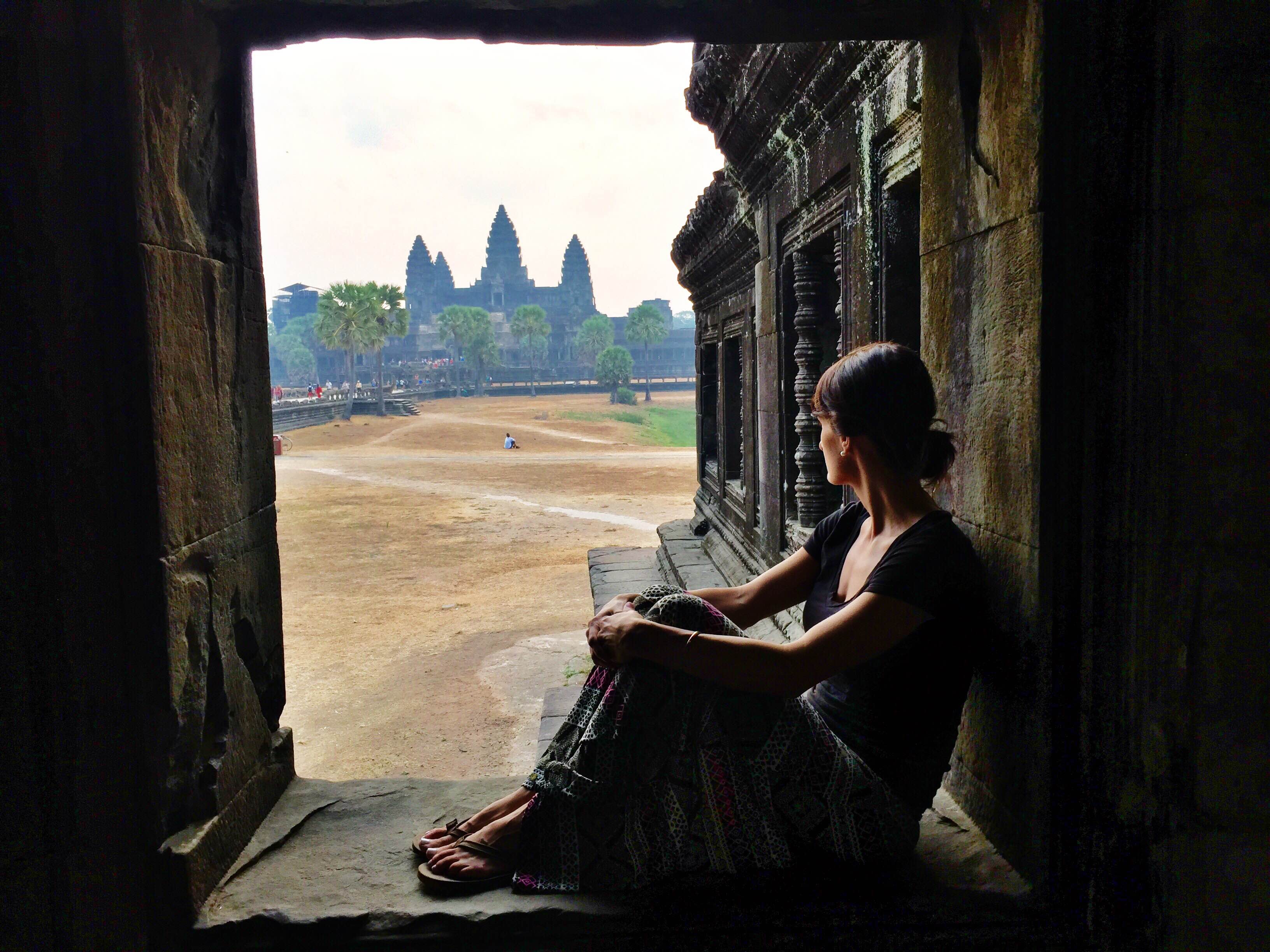 I recently returned from the beautiful country of Cambodia. For years I have been praying about going there to do aftercare work with young women who have been rescued out of the commercial sex trade. God laid it on my heart about 4 years ago and I haven't been able to get it off of my mind since. Finally this year an opportunity opened up to work with an anti-trafficking non-profit in Phnom Penh called The Hard Places.
My main focus on this trip was to teach music lessons to the young girls in the safe home. I had a translator with me the whole time which was a huge blessing. The girls w
ere such quick learners and seemed to get so much joy/fulfillment out of the class and out of learning a musical instrument. Some of them picked it up so quickly and would even play on their own during our breaks. It was such a joy to watch. There was one girl there in particular that I seemed to have a special connection with. I am not able to share her name or her pictures other than this one (to the right) taken from a distance while her and I were walking to class one morning. We also did outreach a couple of the days to at risk children in nearby park. That was such an incredible experience just getting to hang out with the children, play games, jump rope, and kick make-shift soccer balls around. It was incredibly freeing and perspective building. The hardest part was having to say goodbye at the end. The children brought so much joy to me during my short time there and my prayer is that they were blessed by my time with them as well.
Apart from my ministry time in Phnom Penh, one of the things I enjoyed the most was the simplicity of life there. People appreciate the smallest things…and are content to live very simply. It seems they truly enjoy community/family/fellowship and don't often get caught up in the rat race of life that is so prevalent where I live. People really don't care there about the latest fashion, or what car you drive, or how much money you have. There is a freedom to simply be and to enjoy the simple things. One of the most enjoyable things for me was to ride around the city on a moto or Tuk Tuk and pretend for a moment that I was part of their culture. It was both so freeing so grounding. It was a reminder to me that you truly don't need much in regards to material comforts in this life to live a full and joyful life. In fact I often wonder if a lot of the things we surround ourselves with are nothing more than distractions from discovering what truly matters in this life… that being: loving God, loving others, and being faithful in every relationship/opportunity that God brings into our lives. Here are a few more photos from my time in Phnom Penh.

My final day in Phnom Penh I visited the Killing Fields of the Khmer Rouge as well as Toul Sleng Genocide Museum, which was used as the notorious Security Prison 21 (Execution center) by the Khmer Rouge regime from its rise to power in 1975 to its fall in 1979. I have quite literally never experienced anything so dark in my life. There were several times while walking through the museum where I felt such a spiritually oppressive spirit that I literally had to walk out, sit in the courtyard, and begin to pray. The history of Cambodia is both disturbing and heart-wrenching and has cast an indelible shadow over the nation that they have yet to break free from. Which is why I believe God has laid it on my heart to pray continually for freedom, healing, and restoration for that nation.

The final fews days of my trip I went to Siem Reap which is a city about a 6 hours drive/30 min jump flight from Phnom Penh. It is in northwestern Cambodia and is a gateway to the ruins of Angkor, the seat of the Khmer kingdom from the 9th-15th centuries. I took this trip with one of my missionary friends and we spent the majority of our time exploring the temples of Angkor and city of Siem Reap. 

The temples in particular were quite possibly one of the most intriguing and beautiful things I have ever seen in my life. We spent the majority of our days roaming through the temple grounds. Below are several photos from our time there. If you ever go I would highly recommend getting up early enough on of the days to watch the sunrise over Angkor Wat. And to then do the small circuit of temples in reverse order of what they suggest to avoid the crowds. Here are some photos from Angkor Wat, Bayon, and Ta Prohm Temples. As well as Banteay Srei which is a temple surrounded by beautiful rice fields about an hours Tuk Tuk ride from Siem Reap.

If you're looking for an incredible place to stay in Siem Reap I highly recommend the Chronicle Angkor Hotel. For only $60 a night you get a gorgeous room, free continental breakfast, an inviting pool, a full service restaurant, airport shuttle service, and incredible customer service. It was hands down the best hotel experience I have ever had.


My time in Cambodia was truly an experience I will never forget. And this trip absolutely confirmed to me that I have a special connection/love for Cambodia. I will absolutely be back! Until next time Cambodia…